Who are The Navigators
®

?

The Navigators® is an international, interdenominational Christian ministry established in 1933. Our mission is "To Know Christ and To Make Him Known®." The Collegiate Navs is a specific ministry of The Navigators

® that focuses on working with college students in the United States.

The Navigators

® began when a young lumber yard worker named Dawson Trotman began reading the Bible with another young man named Les Spencer. When Spencer approached Daws about another young man who could use Daws' instruction, Daws said, "You teach him!" Prompted by 2 Timothy 2:2, the Navigator vision for disciple-making as a principle in the Christian walk was born.

Today, the Collegiate Navs teach students across the country how to make discple-making, Scripture study and memorization, and evangelism lifelong practices as they grow to know Christ personally and make Him known to others.
Other Links
The following direct you to the home websites for
The Navigators®, the Collegiate Navs, and the Blue Ridge Navs (one of the two regions who send students to SMS). Please enjoy their content and browse them for more information on the organization as a whole and our staff:
Powered by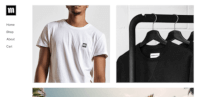 Create your own unique website with customizable templates.